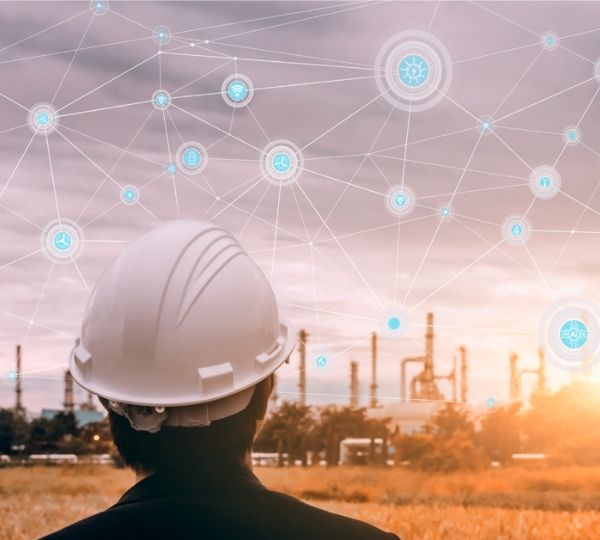 3 Proven Strategies to Start Manufacturing in Mexico
A Mexican manufacturing operation reduces costs and will improve your competitive position. Companies with no prior nearshoring experience should start by learning how to manufacture in Mexico. Three strategies stand out as being particularly popular and successful. Here's a discussion of the pros and cons of each. First though, a review of why manufacturers want to be in Mexico.
Benefits of Manufacturing in Mexico
Manufacturers set up operations in Mexico mainly because it lowers their costs. Hourly rates for factory workers are about 20% of those in the US. In work with significant manual labor content this translates to substantial cost savings.

Other countries have low labor costs too, but they don't have Mexico's advantages. These include: respect for IP, a skilled technical workforce, and a business-friendly government. For many manufacturers though, the biggest advantage is geography. Moving goods from Mexico to distribution centers in the US can be done by road or rail in just hours, or in a few days. Contrast that with the weeks involved in ocean freight from Asia!

Geography is also why you'll find many of the major industry clusters along the US-Mexico border. From Tamaulipas in the east, to Baja California in the west, these are home to many well-known US companies succeeding in Mexico.
Hurdles to Getting Started in Mexico
A business-friendly environment helps, but setting up a business in a foreign country still poses challenges. Laws are different as are language and culture. Company formation entails a complex sequence of steps, and then there is the tax system.
An aspect of the tax system important for businesses learning how to manufacture in Mexico is IMMEX, better known as the Maquiladora program.
Understanding the Maquiladora (IMMEX) Program
The Mexican federal government and states have long been supportive of US manufacturers setting up operations in the country. This has been facilitated by IMMEX, the Maquiladora program.
Companies taking advantage of the tax benefits provided through this program are known colloquially as "maquiladoras." Initially they handled goods imported from the US, adding value before shipping them back across the border. In recent years the tax situation has become more complex with maquiladoras also producing for the domestic Mexican market.
For US manufacturers IMMEX has been part of the draw. However, like any government program, its complex rules can be difficult for those outside the country to navigate.
Options for Getting Started
US companies can begin manufacturing in Mexico in several ways. These include acquiring a Mexican company in the same industry or by establishing a joint venture. However, the three most commonly used models are:

Establish a standalone business
Engage a contract manufacturer
Partner with a manufacturing services company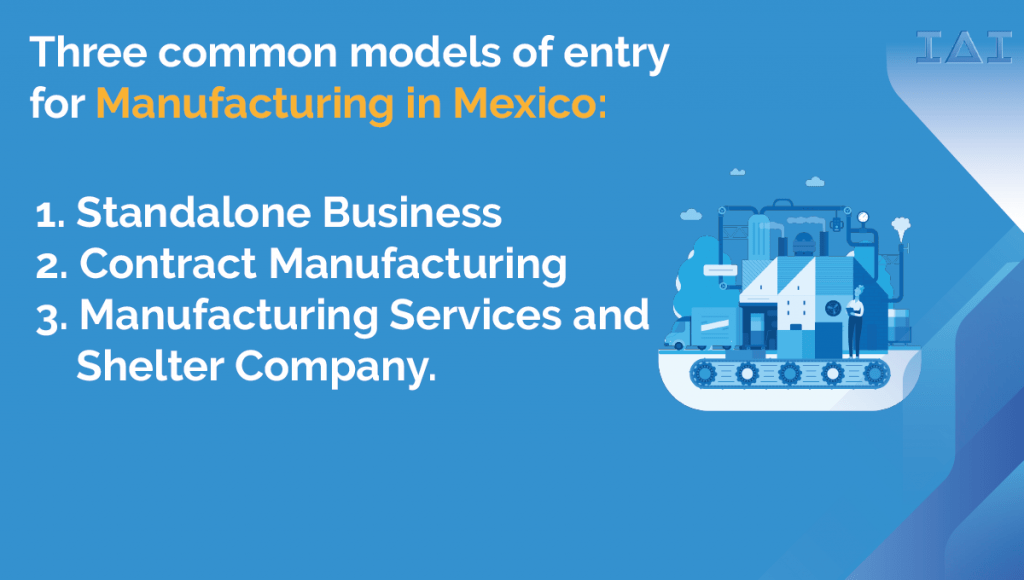 Standalone business
There's no prohibition on companies from outside Mexico establishing a business in the country, although they must follow all relevant laws and regulations. A company with resources and a willingness to invest time and money can obtain the legal assistance to form a business and then start hiring people and finding premises.
One advantage of this approach is that the foreign company has complete control over every aspect of the business. However, it also entails navigating different systems and processes in a foreign language and culture, which can be difficult. Consequently, it can take a long time, sometimes years, to start earning a return on the investment.
Big companies setting up large factories often take this route. Most however chose one of the following two models.
Contract manufacturing
This means finding a Mexican company that can take on some or all of the production work. A US company might for example keep automated stamping or molding operations in the US but ship parts to a contract manufacturer in Mexico for labor-intensive assembly and packaging. (This is what the Maquiladora program facilitated.)

For a smaller business, or one outsourcing a small portion of their manufacturing, this can be done quickly and inexpensively. However, it means giving up control over the manufacturing processes and may involve disclosure of proprietary information. (In reality this last point poses minimal risk but many manufacturers are uncomfortable with the idea.)
Partner with a manufacturing services company
A manufacturing services company model occupies the middle ground between the approaches addressed above. These companies are Mexican businesses established to help foreign manufacturers set up operations in Mexico. Services range from legal and taxation assistance to provision of a complete factory, ready-to-run.
Thinking About Transferring Your manufacturing in Mexico? Get a free consultation to start up your operation in Mexico?
Request a Consultation
Many US manufacturers taking this route let the manufacturing company handle all the administrative, legal and HR aspects of business operations. This frees them to focus on what they know best: using their processes to manufacture their products.

Another advantage of this model is speed. As the professionals in the manufacturing company understand Mexican legal and tax systems, the operation is up and running in less time than is possible through the standalone route.
A Manufacturing Services Company That Can Help
International Assembly LLC has provided manufacturing services to manufacturers needing a Mexican operation for three decades. With seven plants plus a US warehouse, we've helped many businesses learn how to manufacture in Mexico. Contact Us to learn how we could help you.
Last Updated:
OnJune 01, 2020